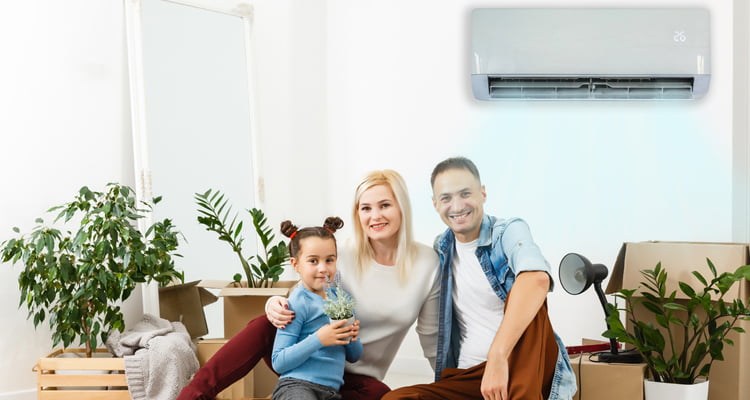 Winter is a great time to remain cozy in your room and spend most of your time snugly in a blanket, watching Netflix and munching on your favorite snacks. With this, you turn on your heater and shut all doors and windows to keep yourself warm. However, improper ventilation and poor indoor air quality can badly affect your health. Properly maintaining your heating system is necessary for such scenarios. An improperly maintained heating system can provide you the required heat, but will greatly affect the air quality of your house.
All this warming up indoors is good, but it can take a toll on your indoor air quality. You might be spending more hours inside, so imagine how much impact it will have on your health. Winter can further exacerbate problems for people who are sensitive to indoor allergens or have respiratory problems. Therefore, keeping your indoor air quality at a healthy level becomes necessary.
Statistics also show that we spend 90% of our time indoors. So, you must take steps to make sure that you are spending your time in a healthy place. This blog post highlights some ways by which you can improve your indoor air quality.
Get Your Furnace Checked
Most of the air you receive during the winter comes from your furnace. If your furnace is not in proper working condition and its filters are not clean, it will definitely impact your indoor air quality.
Therefore, it is necessary to get your furnace checked by a professional HVAC contractor who can assist you with the problems and make your furnace ready for use. This will alleviate most of your problems. A properly maintained HVAC system prevents dust and debris from entering the environment, hence, you will not breathe them in.
Invest In Air Purifiers
Many people are sensitive to dust and pollen. Their allergies are often triggered in such winter conditions when the weather becomes dry, and humidity levels in the air are low. Indoor allergens can worsen the issue.
In addition to this, if you have pets, the percentage of allergens in the air is even higher. Therefore, it is necessary to look for other ways and invest in a quality air purifier.
Air purifiers are smart devices. Most of them are ionic purifiers that can help capture some of the irritants that may trigger your symptoms. These purifiers help to cut down some of the allergens but not completely. So, it can give you some relief from your allergies.
Invest In Humidifiers
Irritation in skin, nose, lips, throats, and ears is common in the winter season. This is because of the dryness in the air, which is usually a result of constant heating. Dry air can cause skin and eye irritations. Therefore, you must invest in a quality humidifier to reduce such effects.
Humidifiers help to maintain an ideal level of humidity in the air minimizing the symptoms of allergies. They also help in maintaining your immune system which also improves your sleep cycle.
When your indoor air quality is comfortable, you won't cough or spend sleepless nights. So, if you want to improve your indoor air quality, install a humidifier in your home. Ideally, humidity levels should remain around 40% to 50% all year long.
Keep Your Room Well Ventilated
Ventilation is just as important in winter as keeping your room warm. If you are turning on your heaters, make sure to check for proper ventilation as well. Pollutants like CO2 and VOC are harmful to your health.
Ventilation is also a solution for dangerous pollutants like VOCs and CO2. Effective ventilation helps to get rid of such pollutants by replacing old stale air with fresh air. Poor ventilation can result in health issues and cognitive impairments. Therefore, make sure to maintain an effective ventilation system for better indoor air quality.
About Pro West Heating & Air Conditioning
If you want to repair your HVAC or other similar appliances, Pro West Heating & Air Conditioning is the perfect choice for you. At Pro West, we offer expert services in repairing, installing, and maintaining air conditioning, heating, hydronic, and humidifier systems to our residential and commercial customers in Vancouver and the lower mainland region. Check out our services here, or Contact us today for more information about our services.