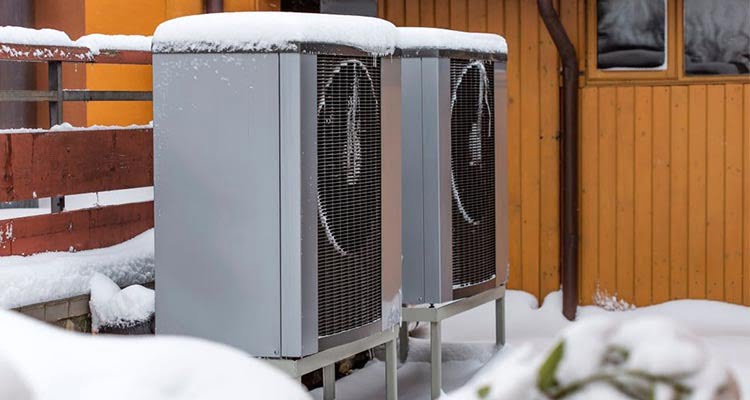 Heat pumps are a basic necessity in every season. Such appliances are required to provide you with cool air in the summer and warm air in the winter. Maintaining them and keeping them in healthy condition is necessary to make sure they last for years. Moreover, maintaining them is also necessary for energy efficiency and reducing billing costs. As a homeowner, you must be responsible and spot serious issues on time. Your heat pump requires regular maintenance and upgrading, hiring a professional can help ensure that your heat pump is properly cared for.
If you want your heat pump to function as you would expect it to, there are some maintenance tips you must keep in mind. These tips will not only improve its performance but also make it energy-efficient and give you better quality air.
Check For Ice And Snow
Your heat pump has to function hard in winter. Snow and ice can build up outside, which can affect the proper functioning of your heat pump. It not only loses its efficiency but also has to work harder than it normally would. As such, it consumes much of your power, and your bills spike. Ice and snow build-up outside can minimize its performance and affect your heat pump badly. Therefore, check it often and ensure that it is clear of ice and snow to avoid any damage to your heat pump.
Call Your Professional HVAC Company
A professional company with cooling and heating expertise can help detect problems with your heat pumps and suggest the best possible solutions. Professionals know the maintenance procedures and know what can improve your heat pump's efficiency. Pro West Heating And Air Conditioning is a Vancouver-based HVAC contractor that provides you with the most affordable and efficient heating and cooling appliance solutions.
Keep Your Heat Pumps At Correct Position
Keeping your heat pumps in the correct position can also help to make them last longer and better. If you live in such a location where there is frequent snowfall and rain, keeping your heat pumps at ground level will expose them to ice and snow. This will block its airflow, and your heat pump will have to work harder to do the job. Therefore, keep your heat pump at a correct elevation so that it can properly function. Ideally, your heat pump should be about 4 inches to 8 inches above ground level.
Follow Safety Procedures
Always follow all the procedures when cleaning up your heat pump or removing ice off its coils. Any improper cleaning techniques can damage your heat pump permanently. Follow the safety procedures that are written on its manual or call a professional to help you.
Don't Install Your Outdoor Unit Under A Gutter
Avoid installing the outdoor unit of your heat pump under a gutter. During winter, the water will drip down and freeze on the outdoor unit. This can affect the performance of your heat pump, and it might consume more energy than needed to warm your home.
Other Care Tips
Some of the other care tips you must follow to keep your heat pumps in good condition include:
Inspecting ducts and blowers periodically.
Lubricating motors.
Verifying thermostat operations.
Checking refrigerant leaks.
Keeping outdoor coils clean.
Inspecting electrical terminals carefully.
Cleaning and tightening electrical connections.
Verifying thermostat operations.
About Pro West Heating And Air Conditioning
Pro West Heating And Air Conditioning is a pro at delivering quality services for your heating and cooling appliances. We are one of the best heating and cooling contractors in Vancouver, making your living experience much more comfortable. We are a commercial HVAC maintenance service, offering several related services. If you have any queries contact us here.