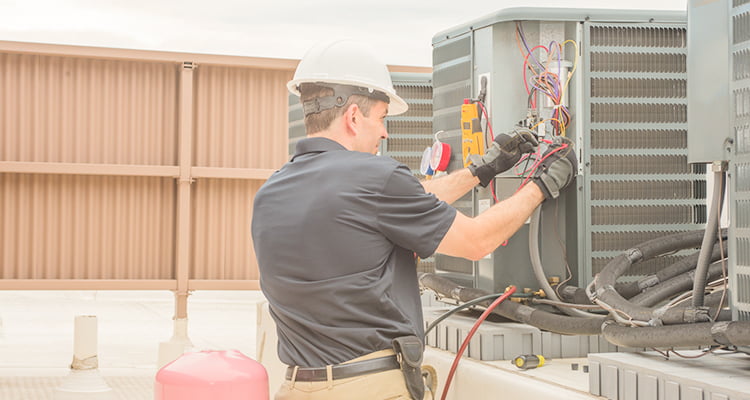 Air conditioner maintenance is crucial to keep it working accurately and provide energy-efficient services. Also, regular air conditioner service reduces the risk of damage to its machinery. Additionally, timely service of every air conditioner is important even the biggest AC units can get damaged if not serviced at the right time.
Generally speaking, an air conditioner requires a good service routine, you should get your air conditioner serviced after every 6 months. More appropriately, after and before the summer season. As a newly serviced air conditioner will give better performance during the summer season.
Moreover, AC servicing ensures that the air conditioner machinery is in good condition and the air conditioner is clean from the inside.
Besides that, hiring an HVAC contractor for the maintenance and service of your air conditioner can help you get reliable maintenance with professional techniques. Additionally, a professional technician can tell you if there are any defects in your AC or if any of its parts need repairing.
However, you can also do air conditioner service on your own but, you will not be able to get the desired results and efficient performance. As a result, your effort and time will be wasted. For this reason, it is recommended to have permanent contact with a professional service technician who can regularly service your air conditioner.
Benefits Of Getting Services From An Air Conditioner Maintenance Provider
Having a contract with a certified air conditioning service provider can benefit you in many ways. Firstly, you will get the finest air conditioning services from certified technicians which will minimize the chances of any damage.
Also Read: Top Benefits Of Hiring A Professional AC Repair Company
Moreover, during peak service season, everyone tries to get their air conditioner serviced before the summer season begins. Therefore service providers give priority to their regular customers, due to which you can get your air conditioner serviced easily. In fact, you can get AC services from the senior technicians of your maintenance provider.
In addition to the priority, the service providers can give you discounts so that you can get professional services at low rates.
After How long Should I Get Professional Service?
After understanding the benefits of following a maintenance routine for your air conditioner let's discuss how often you should get the system serviced. The answer is it depends on various factors:
Usage
The air conditions which are used frequently require more maintenance. The reason is the units which are used more often get polluted due to air pollution. Hence these air conditioners require services to clean their parts and replace or clean their filters.
Henceforth, an air conditioner that is used for at least 12 hours a day should be serviced after every three to four months.
Atmosphere
If you live in a good atmosphere with low air pollution then your air conditioner can be serviced after six months. Whereas, if you live in a polluted area with lots of air pollution then your air conditioner will require early service due to pollution and its filters being filled with impurities and dust particles.
Season
During the winter season, air conditioners do not require maintenance as they are not operational. Contrary to this in the summer season air conditioners are operational for almost 24 hours a day and therefore require more maintenance to work efficiently.
Moreover, because of high usage, you might even need air conditioner service in the middle of the summer season.
Steps Involved In Air Conditioner Service
In air conditioner service, the basic purpose is to clean the unit from the inside and outside. To do so, the air conditioner is unlocked, its inside parts are cleaned with a cloth, and its filters are removed and cleaned from the dust and debris stuck in them. Additionally, a performance check is made after closing the air conditioner panel. In order to check its performance, the AC is tested on the lowest temperature which you can set on a hot day.
About Pro West heating & Air Conditioning
We at Pro West heating & Air Conditioning offer reliable HVAC services in Vancouver. Our services include installation, maintenance and repairing of HVAC systems. Our professionals provide expert services according to your requirements. To get more information about our services please contact us today.