SL 40-399G3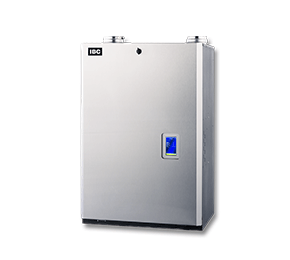 Why we love this product.
Express setup for quick and hassle-free installation
Remote monitoring and diagnostics
Easy USB programmability
Impressive 96% thermal efficiency
Details
The SL 40-399G3 boiler is the ideal choice for light commercial purposes. It offers a range of exceptional features that make it a top-notch solution for your heating needs. With its touchscreen boiler controller, you can enjoy an express setup process, remote monitoring, and diagnostics, as well as easy USB programmability. With simplified load pairing and visible flame current, this boiler guarantees optimal efficiency and safety. Not to mention, it boasts an impressive 96% thermal efficiency rating, resulting in significant energy savings.
SL 40-399G3 Boiler Features
Multi-boiler communication up to 9.5 million Btu/h (24 boilers) without additional controls, providing versatility and scalability.
Wide turndown ratio of 240:1, offering a firing rate range from 40,000 Btu/h up to 9.5 million Btu/h in 1000 Btu/h increments, ensuring precise heat output.
PVC/CPVC/PPs approved venting up to 400 feet, allowing flexible installation options.
Multiple zone pump control capability for up to 4 zones, eliminating the need for external pump controls and simplifying the system.
Patented MFZ Technology, a moisture management system that protects and extends the lifespan of all components in the boiler, ensuring durability and reliability.
DDC Control compatibility with 0-10 VDC or 4-20 mA signals, providing enhanced control options without requiring additional controls.
Optional SL 40-399 316Ti Titanium enhanced heat exchanger available, offering superior corrosion resistance and longevity.
DHW opt-out priority for multi-boiler systems, ensuring a reliable hot water supply.
Reverse flow detection feature for added safety and protection against potential issues.
Up to 10-year commercial heat exchanger warranty, providing peace of mind and assurance of the product's quality.
With the SL 40-399G3 boiler, you can enjoy advanced technology, exceptional efficiency, and reliable performance, making it the perfect choice for light commercial applications.