SL 40-399G3 TI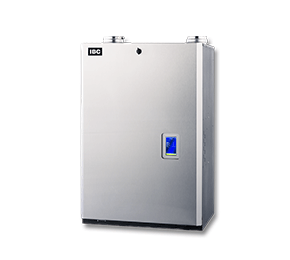 Why we love this product.
Intuitive alert system
Simplified load pairing
Visible flame current for enhanced safety
Multi-boiler communication capability
Details
The SL 40-399G3 (TI) boiler is the perfect solution for light commercial applications, offering a wide range of exceptional features. With its touchscreen boiler controller, you can enjoy expressing setup, remote monitoring, and diagnostics, as well as easy USB programmability.
With a remarkable thermal efficiency rating of up to 96%, this boiler delivers significant energy savings. Moreover, its multi-boiler communication capability allows for expanded heating capacity without the need for additional controls. With the SL 40-399G3 (TI), you can experience efficient and reliable heating for your light commercial needs.
SL 40-399G3 TI Boiler Features
Experience optimal energy utilization with the SL 40-399G3, boasting an impressive thermal efficiency of 96%.
Optional SL 40-399 316T Titanium enhanced heat exchanger available, providing superior corrosion resistance and durability.
Multi-boiler communication capability up to 9.5 million Btu/h (24 boilers) without additional controls, providing versatility and scalability.
Turndown ratio of 240:1 with 24 x 399 boilers, offering a firing rate range from 40,000 Btu/h up to 9.5 million Btu/h in 1000 Btu/h increments, allowing precise heat output control.
PVC/CPVC/PPs approved venting up to 400 feet, providing flexible installation options.
Multiple zone pump control capability for up to 4 zones, eliminating the need for external pump controls and simplifying the system.
Patented MFZ Technology, a moisture management system that protects and prolongs the lifespan of all components in the boiler, ensuring durability and reliability.
DDC Control compatibility with 0-10 VDC or 4-20 mA signals, offering enhanced control options without requiring additional controls.
DHW opt-out priority for multi-boiler systems, ensuring a reliable hot water supply.
Reverse flow detection feature for added safety and protection against potential issues.
Up to 10-year commercial heat exchanger warranty, offering peace of mind and confidence in the product's quality.
With the SL 40-399G3 (TI) boiler, you can enjoy advanced features, exceptional efficiency, and reliable performance, making it an excellent choice for your light commercial heating needs.