S9V2-VS Gas Furnace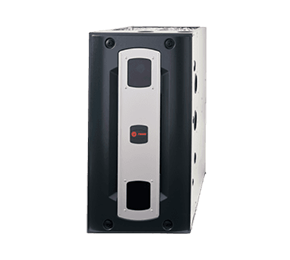 Why we love this product.
Compact design for easy installation
Variable-speed blower motor
Enhanced dehumidification capabilities
Quiet operation
Call for Pricing
Details
Experience total comfort and reliability with the S9V2-VS furnace. This furnace is built with high-quality components and guarantees optimal performance for your family's comfort. Its re-designed cabinet platform allows for a seamless fit in tighter spaces. The variable-speed blower motor ensures efficient airflow, while the variable-speed draft inducer further enhances its performance. The two-tone powder-painted cabinet is durable and adds a touch of elegance to your home. 
S9V2-VS Gas Furnace Features
The S9V2-VS furnace features a re-designed cabinet platform allowing easy installation in tighter spaces. This furnace offers a compact and versatile solution.

With a variable-speed blower motor, the S9V2-VS furnace delivers efficient airflow throughout your home. The motor adjusts its speed to match the heating demands, providing consistent comfort.

The S9V2-VS furnace is equipped with a Variable Speed Draft Inducer, enhancing its overall performance. This component ensures reliable and efficient combustion by precisely controlling the airflow.

Not only does the S9V2-VS furnace excel in functionality, but it also boasts an attractive design. The heavy gauge, the two-tone powder-painted cabinet offers durability and aesthetic appeal.

This furnace incorporates Comfort-R™ technology, which enhances dehumidification capabilities. Removing excess moisture from the air during the cooling cycle helps maintain optimal indoor humidity levels.

The S9V2-VS furnace is built with stainless steel primary and secondary heat exchangers. These high-quality components ensure exceptional heat transfer efficiency and durability.

Noise disruptions can be a nuisance, so the S9V2-VS furnace features an insulated cabinet. This insulation minimizes operating sounds, providing whisper-quiet operation. 

It is built with high-quality components that undergo rigorous testing to ensure durability, reliability, and long-term performance. You can trust that your investment in this furnace will provide years of dependable heating for your home.

The S9V2-VS furnace is designed to deliver total comfort for your family with its advanced features, efficient heating capabilities, and precise temperature control.

In addition to providing comfort, the S9V2-VS furnace is designed with energy efficiency in mind. Its advanced technology and variable-speed components help reduce energy consumption, lowering utility bills.