Power Direct Vent Gas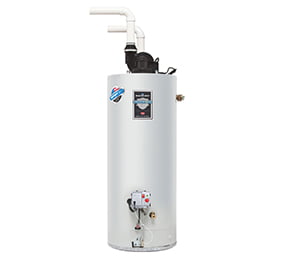 Why we love this product.
Easy installation
Additional control features
Powerful blower model
Horizontal and vertical venting options
Details
Discover the perfect combination of advanced control, safety, and efficiency with our Power Direct Vent Gas water heater. With the Bradford White ICON System®, you have complete control over your hot water settings, ensuring personalized comfort. Experience efficient, reliable hot water with our Power Direct Vent Gas water heater.
Power Direct Vent Features
Bradford White ICON System®: Provides advanced control and monitoring capabilities for personalized hot water settings.
Defender Safety System®: Ensures added protection and safety during operation.
Closed combustion venting system: Guarantees safe and efficient performance.
Powerful blower model: Delivers optimal water heating for maximum comfort.
Cast aluminum air intake boot: Offers exceptional durability and longevity.
Horizontal and vertical venting: Provides flexibility for installation in various setups.
Vitraglas® tank lining with Microban®: Enhances durability, inhibits bacterial growth, and maintains cleanliness.
2″ non-CFC foam insulation: Minimizes heat loss and maximizes energy efficiency.
Water connections – ¾" NPT: Enables convenient water supply hookup.
Side connections – ¾" NPT (RG2PDV50H6N and RG2PDV75H6N only): Allows for additional integration options.
Optional concentric vent kit termination: Provides an easy and efficient setup solution.