Platinum Indoor Coil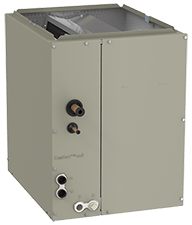 Why we love this product.
An essential part of your matched system
Superior efficiency and heat transfer
Lasting durability and peace of mind
Details
A system that works smarter. A strong and sturdy all-aluminum indoor coil.
Platinum Indoor Coil Highlights
100% Foil-Backed Insulation

Time spent cleaning and servicing is greatly reduced with this foil insulation.

Quieter Operation

The operating sound of these coils is reduced thanks to the 100% foil-backed insulation

Painted Finish

Provides further protection against rust and corrosion

Aluminum Tubes and Tube Sheets

Provides added durability and bolsters rust and corrosion resistance.

Two-Way, Non-Corrosive Drain Pan

Helps to reduce standing water. Standing water can lead to mold growth, mildew and bacteria if left unchecked.
Warranty
For information on limited warranty terms for your existing product, please refer to your owner's manual or click here for a copy of our warranty booklet. Your local dealer can provide a copy of your owner's manual. Find your local dealer. Beginning May 1, 2009, Registered Limited Warranty terms are available if the product is registered within 60 days of installation. Registration can be completed either online at americanstandardair.com or by calling 800-554-8005. American Standard Heating & Air Conditioning's Registered Limited Warranty terms on this product include:
10 Year limited warranty on internal functional parts
If the product is not registered within 60 days of installation American Standard Heating & Air Conditioning's Base Limited Warranty terms will apply.
An option to purchase transferability of your Registered Limited Warranty is available. Visit our Warranty + Registration page for more information.
Optional Extended Warranties available. Extended Warranties can pay for labor and other costs not covered by manufacturer's limited warranty.
Ask your dealer for full warranty information at time of purchase. Warranties are for residential use only, some exclusions may apply.
Download the Product Brochure