NPN-199U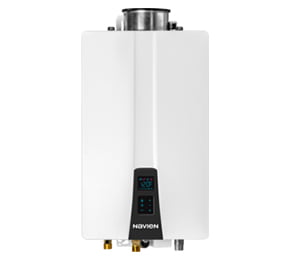 Why we love this product.
Available for residential and commercial use
Versatile unit for indoor or outdoor installations
Available in natural gas (NG) or liquid propane (LP)
Low NOx emissions of only 20ppm
Details
The NPN-199U is a premium non-condensing tankless water heater designed for both residential and commercial use. It features an exclusive NaviTech stainless steel heat exchanger and burner, ensuring unmatched durability and performance. With its universal design, it can be installed indoors or outdoors, offering flexibility in placement.
NPN-199U Features
Exclusive stainless steel heat exchanger for unparalleled durability and performance
Universal integrated control panel for easy temperature adjustment and operation monitoring
Built-in Air Pressure Sensor (APS) ensures consistent Domestic Hot Water output and proper air/gas ratio
Patented NaviTech stainless steel burner for higher efficiency
Built-in recirculation control reduces the need for additional components and saves installation time and cost
Built-in Water Adjustment Valve (WAV) and Mixing Valve stabilize water temperature during flow changes
Experience the premium features and benefits of the NPN-199U tankless water heater. Its stainless steel construction, advanced control options, and innovative technologies make it a reliable and efficient choice for residential and commercial applications.