NPN-180U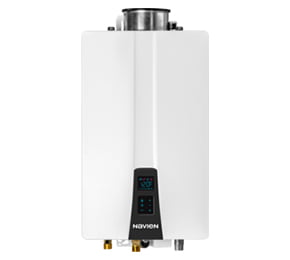 Why we love this product.
Durable stainless steel heat exchanger for unmatched performance
Versatile indoor or outdoor installation
Low NOx emissions for a cleaner and safer operation
Recirculation control for simplified setup
Details
The NPN-180U is a premium non-condensing tankless water heater designed for both residential and commercial use. With a maximum DHW input of 180,000 BTU/h, this unit delivers an efficient and reliable hot water supply. It features a NaviTech stainless steel heat exchanger and burner, ensuring durability and unmatched performance. The NPN-180U can be installed either indoors or outdoors, providing flexibility for various applications.
NPN-180U Features
Exclusive stainless steel heat exchanger for unmatched durability
Universal integrated control panel for easy temperature adjustment and troubleshooting
Built-in Air Pressure Sensor (APS) for monitoring and compensating vent system
Patented NaviTech™ stainless steel burner for high efficiency
Recirculation control built into the circuit board for simplified system setup
Built-in Water Adjustment Valve (WAV) and Mixing Valve for stable water temperature
Suitable for indoor or outdoor installations, providing versatile options
Low NOx emissions of only 20ppm, promoting cleaner and safer operation
Cascading capable of expanded capacity
It comes with certifications and is supported by quality and reliability
NPN-180U premium non-condensing tankless water heater offers exceptional performance and durability. Experience the quality and efficiency of NPN-180U for your residential or commercial needs.