NHB-55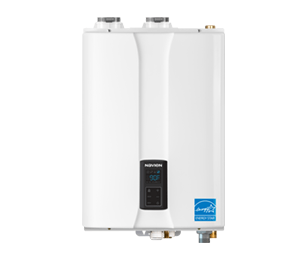 Why we love this product.
Super condensing efficiency
Dual stainless steel heat exchangers
Versatile venting options
Integrated controls for enhanced functionality
Details
The NHB-55 is a high-efficiency condensing heating boiler designed for both residential and commercial use. With a maximum HTG input of 55,000 BTU/h, it offers powerful heating capabilities in a compact, wall-hung unit.
NHB-55 Features
Super condensing efficiency saves energy and reduces greenhouse gases

Dual stainless steel heat exchangers ensure optimal performance and durability

SCH40, 2″ PVC venting system allows for flexible installation up to 60′

A turndown ratio of up to 7:1 minimizes energy waste and excessive cycling

Integrated controls provide industry-leading options and features

Adjustable heat capacity for customized heating preferences

Temp boost for outdoor reset control enhances efficiency

Adjustable anti-cycle timer prevents unnecessary cycling

The freeze protection feature safeguards the boiler in colder climates

Eligible for credits and rebates, with potential savings of up to $600

Versatile venting options: 2″ venting up to 65′; 3″ up to 150′ (including schedule 40 PVC)
The NHB-55 offers premium features and benefits that make it an exceptional choice for efficient and reliable heating. Its advanced condensing technology, combined with dual stainless steel heat exchangers, ensures optimal energy savings while reducing greenhouse gas emissions.