NAY Air Conditioner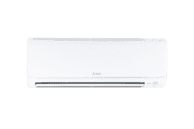 Why we love this product.
Small space heating and cooling
Quiet operation
Flexible, efficient comfort
Details
A system that works smarter. We offer solutions for every need, including situations where heating is not necessary. The ST Series of air conditioners is ENERGY STAR certified and offers up to 24.6 SEER.
NAY Air Conditioner Overview
INVERTER-DRIVEN COMPRESSORS
Maximizes energy savings by using only the energy needed to perfectly cool or heat an area
EASY INSTALLATION
Installs quickly and easily, without the need for major construction and remodeling
COMPLETE ZONE CONTROL
Realizes maximum control and energy efficiency by cooling and heating only those spaces in use
PERSONAL COMFORT CONTROL
Complete comfort control of temperature, fan speed, and air direction in each room or zone via kumo cloud® or other smart home devices
CLEANER AIR WITH WASHABLE ANTI-ALLERGEN FILTERS
Improves air quality and saves money
ULTIMATE ENERGY EFFICIENCY
With higher SEER
NAY Air Conditioner Highlights
Available capacities in kBtu/h: 09, 12, 15, 18, 24, 30, 36
Offers a wide vane for a wider angle of airflow, 150° from left to right
Motorized vertical vanes on WST24/WST30/WST36 models
SEER: 15.1–24.6
Compatible with the MUY outdoor unit
Warranty
For information on limited warranty terms for your existing product, please refer to your owner's manual or view a copy of our warranty booklet. Your local dealer can provide a copy of your owner's manual. Find your local American Standard Heating & Air Conditioning Dealer. Beginning May 1, 2009, Registered Limited Warranty terms are available if the product is registered within 60 days of installation. Registration can be completed either online at americanstandardair.com or by calling 800-554-8005. American Standard Heating & Air Conditioning's Registered Limited Warranty terms on this product include:
5-year limited warranty on compressor and functional parts.
If the product is not registered within 60 days of installation American Standard Heating & Air Conditioning's Base Limited Warranty terms will apply.
An option to purchase transferability of your Registered Limited Warranty is available. Visit our Warranty + Registration page for more information.
Optional Extended Warranties available. Extended Warranties can pay for labor and other costs not covered by manufacturer's limited warranty.
Ask your dealer for full warranty information at time of purchase. Warranties are for residential use only, some exclusions may apply.
Download the Product Brochure