Gold Humidifier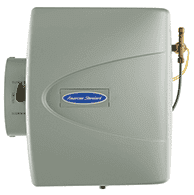 Why we love this product.
Whole home humidifier that can help alleviate allergy symptoms.
Homes up to 4,000 sq ft
Quiet, automatic humidity control
Balanced humidity dependent upon the season
Details
A system that works smarter. The right amount of comfort, automatically.
Gold Humidifier Highlights
Designed for homes with up to 4,000 square feet
Bypass design with built-in damper has summer (off) and winter (on) positions
Automatically delivers the right amount of humidity as needed
Delivers up to 50 percent more moisture than comparable humidifiers
Uses an optimal outdoor sensor to monitor temperature to maintain correct indoor humidity levels
So quiet, you'll barely notice it's running
Flow-Through Design helps control mineral buildup, minimizing maintenance
Resists rust and corrosion
Quick-access humidifier pad makes maintenance easy
Warranty
For information on limited warranty terms for your existing product, please refer to your owner's manual or click here for a copy of our warranty booklet. Your local dealer can provide a copy of your owner's manual. Find your local dealer. Beginning May 1, 2009, Registered Limited Warranty terms are available if the product is registered within 60 days of installation. Registration can be completed either online at americanstandardair.com or by calling 800-554-8005. American Standard Heating & Air Conditioning's Registered Limited Warranty terms on this product include:
10 Year limited warranty on internal functional parts
If the product is not registered within 60 days of installation American Standard Heating & Air Conditioning's Base Limited Warranty terms will apply.
An option to purchase transferability of your Registered Limited Warranty is available. Visit our Warranty + Registration page for more information.
Optional Extended Warranties available. Extended Warranties can pay for labor and other costs not covered by manufacturer's limited warranty.
Ask your dealer for full warranty information at time of purchase. Warranties are for residential use only, some exclusions may apply.
Download the Product Brochure