ForeFront™ Gold GAM5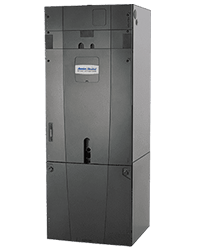 Why we love this product.
Reduced air leakage and increased efficiency
Reliable comfort and peace of mind
Quiet operation
Details
A system that works smarter.
A powerful blower motor makes this HVAC air handler unit an efficient and reliable option for air control.  Plus, this energy-efficient air handler offers a unique design that prevents irritants from entering your air.
ForeFront™ Gold GAM5 Highlights
Prevent energy loss and virtually eliminate condensation with the unique cabinet design that allows this HVAC air handler unit to draw in less moisture and fewer dust particles from garages, attics and crawl spaces.
This HVAC air handler's high-efficiency fan motor delivers exceptional airflow.
Improves the airflow in your home while reducing energy use and operating sound with the Vortica™ Advanced airflow System.
Benefit from the fully enclosed insulation that increases efficiency while eliminating loose fiberglass insulation in your airstream.
Experience the benefits of the all-aluminum coil that enhances system life and reduces the chance of refrigerant leaking into the atmosphere.
Warranty
For information on limited warranty terms for your existing product, please refer to your owner's manual or view a copy of our warranty booklet. Your local dealer can provide a copy of your owner's manual. Find your local American Standard Heating & Air Conditioning Dealer. Beginning May 1, 2009, Registered Limited Warranty terms are available if the product is registered within 60 days of installation. Registration can be completed either online at americanstandardair.com or by calling 800-554-8005. American Standard Heating & Air Conditioning's Registered Limited Warranty terms on this product include:
10-year limited warranty on internal functional parts.
If the product is not registered within 60 days of installation American Standard Heating & Air Conditioning's Base Limited Warranty terms will apply.
An option to purchase transferability of your Registered Limited Warranty is available. Visit our Warranty + Registration page for more information.
Optional Extended Warranties available. Extended Warranties can pay for labor and other costs not covered by manufacturer's limited warranty.
Ask your dealer for full warranty information at time of purchase. Warranties are for residential use only, some exclusions may apply.