4TXM6 Outdoor Heat Pump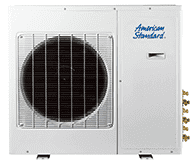 Why we love this product.
Small space heating and cooling
Quiet operation
Flexible, efficient comfort
Details
A system that works smarter. This ductless heating and cooling unit's design offers efficient heating and cooling for multiple zones.  This multi-split heating and ductless cooling system's twin rotatry compressor provides more even heating and cooling while simultaneously lowering your utility bills.
4TXM6 Outdoor Heat Pump Highlights
Offers efficiency up to 16.00 SEER.
Ductless heating and air.
This ductless heating and cooling unit's durable exterior features a new, strong hot-dip galvanized steel grill to help prevent damage and not affect airflow.
Intelligent defrost works automatically to improve the ductless cooling unit's efficiency and helps you save power.
Special anti-corrosion treatment increases durability and ensures continued efficiency.
Twin rotary DC compressor provides better balance, lower power consumption and higher efficiency.
The compressor stops or delays operation if conflicts arise to protect the ductless heating and air system.
A multi-split system lets you control up to five indoor zones independently and allows for easy future expansion.
Warranty
For information on limited warranty terms for your existing product, please refer to your owner's manual or view a copy of our warranty booklet. Your local dealer can provide a copy of your owner's manual.
 Find your local American Standard Heating & Air Conditio
n
ing Dealer
. Beginning May 1, 2009, Registered Limited Warranty terms are available if the product is registered within 60 days of installation. Registration can be completed either online at americanstandardair.com or by calling 800-554-8005. American Standard Heating & Air Conditioning's Registered Limited Warranty terms on this product include:
5-year limited warranty on compressor and functional parts.
If the product is not registered within 60 days of installation American Standard Heating & Air Conditioning's Base Limited Warranty terms will apply.
An option to purchase transferability of your Registered Limited Warranty is available. Visit our Warranty + Registration page for more information.
Optional Extended Warranties available. Extended Warranties can pay for labor and other costs not covered by manufacturer's limited warranty.
Ask your dealer for full warranty information at time of purchase. Warranties are for residential use only, some exclusions may apply.
Download the Product Brochure