4MXD8 Concealed Indoor Unit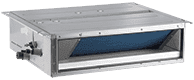 Why we love this product.
Small space heating and cooling
Quiet operation
Flexible, efficient comfort
Details
A system that works smarter. The 4MXD8 ductless heat and air system's design delivers precise comfort with minimum ductwork.
4MXD8 Concealed Indoor Unit Highlights
Offers efficiency up to 16.00 SEER.
Flexible mounting for installing ductless heat and air conditioning units indoors.
Specially designed air vents efficiently reduce this ductless cooling system's operational noise in order to provide quiet comfort.
Turbo function provides temporary high-speed operation to reach your desired temperature quickly.
Sleep function automatically adjusts temperature based on set sleeping time to maintain comfort in the room, saving energy.
Auto clean function runs the fan when the unit is stopped to prevent bacteria from forming. The unique catechin filter made from natural green tea provides long-lasting sterilization and removes up to 95 percent of potentially harmful bacteria.
Timer allows you to set when and how the ductless heat and air system operates.
Control your system from anywhere in the room with a wireless remote control (purchased separately). The "I feel" function senses temperature at the remote control instead of at the thermostat.
Warranty
For information on limited warranty terms for your existing product, please refer to your owner's manual or view a copy of our warranty booklet. Your local dealer can provide a copy of your owner's manual. Find your local American Standard Heating & Air Conditioning Dealer. Beginning May 1, 2009, Registered Limited Warranty terms are available if the product is registered within 60 days of installation. Registration can be completed either online at americanstandardair.com or by calling 800-554-8005. American Standard Heating & Air Conditioning's Registered Limited Warranty terms on this product include:
5-year limited warranty on compressor and functional parts.
If the product is not registered within 60 days of installation American Standard Heating & Air Conditioning's Base Limited Warranty terms will apply.
An option to purchase transferability of your Registered Limited Warranty is available. Visit our Warranty + Registration page for more information.
Optional Extended Warranties available. Extended Warranties can pay for labor and other costs not covered by manufacturer's limited warranty.
Ask your dealer for full warranty information at time of purchase. Warranties are for residential use only, some exclusions may apply.
Download the Product Brochure