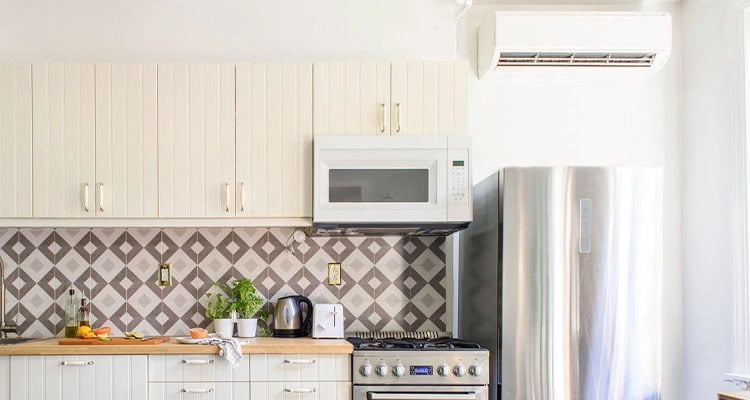 Cooking is an amazing art, and many people enjoy this hobby. It is quite fun for people who have a habit of eating homemade meals and cannot rely on restaurant foods. Cooking is all fun and games until summer hits, and your kitchen is full of heat. Then only a professional chef or a real passionate cook can stand in the kitchen heat and make meals for others. However, it can become quite difficult to be in the
kitchen without AC
in summer. The temperature going between 40-50 degrees Celsius can make it quite difficult for you to bear the summer heat and stoves. Hence, put an air conditioner in your home kitchen. It is not flammable under normal conditions, and it is safe to use in the kitchen. But many people are quite suspicious about installing an AC in their kitchen and keep on using their hand held fans or similar items. If you are one of them, this blog post might help you. Here we mention what you need to know about installing an AC in the kitchen.
Can You Install An Air Conditioner In The Kitchen?
Many people are quite confused about whether to install an air conditioner in their kitchen or not. However, considering all the safety measures and steps, installing AC in the kitchen is okay. Also, many people have central air conditioners in their homes, which usually work in all house rooms. However, it might not be ideal for the kitchen because it will suck smoky particles from the kitchen and distribute them in all the corners of your house. But if you install a separate AC for your kitchen and keep it separate from the rest of the area of your house, the oily particles will not be distributed to the other parts of your home.
How To Install An Air Conditioner In The Kitchen
Installing an air conditioner in the kitchen requires you to ensure that all safety measures are followed. Moreover, it should provide you with the necessary cooling and not disturb your cooking. Therefore, apart from hiring a professional heating and cooling company, you also need to ensure that the air conditioner doesn't blow directly onto the gas stove. Otherwise, it will disturb the heating efficiency of the stove, and you will cook very slowly. So whether you are using a gas stove or an electric stove, keeping the cooling direction on the opposite side is necessary so that the heat is not disturbed. Also, avoid putting air-conditioners near the cast because the oily steam will stay around your kitchen cabinet, basin, and countertop. As a result, the air conditioner will suck in more steam produced from your cooking, which is oily and hot. Moreover, you should try to avoid putting appliances under the air conditioner. If hot appliances are put near your air conditioner, they will burn your conditioner over time.
How To Maintain Your Air Conditioner In The Kitchen
Taking care of your air conditioner in the kitchen is necessary to make sure it can last a long time. It means you must clean your air conditioner with some commercial cleaner. Also, oil and food steam can form a layer on the air conditioner's body, which you need to wipe off regularly with a towel. The best thing you can do to maintain your air conditioner and keep it working for years is to keep it on the opposite side of the heat.
Hire A Professional Heating And Cooling Expert
One wise decision you can make when looking to install an air conditioner in your kitchen is to hire a professional heating and cooling company to install the air conditioner. Such professionals are familiar with the rules and safety measures required to install a conditioner in a kitchen.
About Pro West Heating & Air Conditioning
Install your AC professionally with us. Employing
PRO WEST's
experts means ensuring a quality job and customer satisfaction, which are just two of our fundamental priorities. If you need any HVAC services in Vancouver and the lower mainland,
contact us today
for personalized service. Our professionals are ready to serve you and make your living more comfortable.