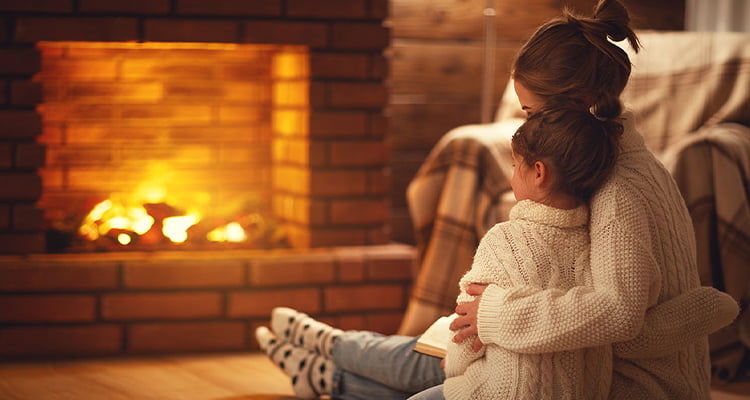 Your fireplace provides you and your family with much-needed warmth and is probably the best place to gather around during these uncertain weather swings. However, before making your family plans, make sure that the place is well-maintained and up to the mark to function properly.
If you have not yet gotten your chimney or fireplace inspected for this year we recommend that you call a gas fireplace expert and get it inspected, repaired, and cleaned wherever needed. In the meanwhile, the following blog will explain a few fire prevention tips you can follow to stay safe.
1. Chimney Inspection And Cleaning
NRC (national research council Canada) has guided users to get their chimneys inspected and cleaned at least once a year. It has also mentioned the importance of cleaning chimneys in several pieces of research.
A proper and well-conducted chimney inspection can eradicate all possible soot, glazing, and creosote that can be in your fireplace chimney. An inspection will also evaluate the integrity of your chimney and fireplace to make sure it is up to par before use.
2. Smoke Detector Check
Next, make sure to check your smoke detector and ensure that it is working properly. It is better to keep batteries that are suitable for your smoke detector. Hearing a loud chirp sound from your smoke detectors indicates that it needs new batteries. Finding that you are out of them, can be quite a bummer, especially during the festive season.
3. Carbon Dioxide Detector Check
Carbon dioxide is an odorless yet dangerous gas to breathe in. It is a by-product of burning. High concentrations of carbon dioxide in the air can be fatal. Therefore, it is important to take precautions to avoid and prevent carbon dioxide poisoning. A CO2 detector can alert you when levels have gone above the normal range. Make sure that your carbon dioxide detector is working properly and can do the job for a long time.
4. Don't Place Wrapped Packages Near A Fire
Owing to the chances of combustibility, it is important that you keep your neatly wrapped gifts or boxes away from the fireplace when the fire is ignited. It is advisable to keep all combustible materials at least three feet away from your lightened fireplace and other fire sources like candles, stoves, and portable heaters.
5. Don't Burn Wrapping Paper
Wrapping paper, packaging materials, and other colorful papers have additives in them. These additional components make burning these materials harmful. The chemicals in these materials produce high temperatures when burned which can trigger a chimney fire above your fireplace. So, it is advisable to never burn wrapping paper in your fireplace.
6. Get Help From Pro West Heating & Air Conditioning
Pro-West Heating & Air Conditioning is your go-to partner when considering installing or buying heating systems this winter. Our team of experts can also help you in performing regular maintenance sessions for your heating systems. This not only makes them safer to use but also improves their energy efficiency. We are Professional & Reliable HVAC Contractors In Vancouver And The Lower Mainland. Contact us for more information on our services.