Silver 203 Control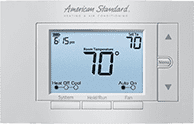 Why we love this product.
Push button control
7 day or 5-1-1 schedule
Simple to use, easy to read
Details
A system that works smarter
Program your comfort to your schedule with a digital, programmable thermostat.
Silver 203 Control Highlights
Easy to program, simple to use
The programmable, digital thermostat can be customized to fit your schedule 7 days a week or five days a week plus 1 day for each day of the weekend
Automatically switches between heating and cooling to maintain comfortable temperatures year round.
Warranty
For information on limited warranty terms for your existing product, please refer to your owner's manual or view a copy of our warranty booklet. Your local dealer can provide a copy of your owner's manual. Find your local American Standard Heating & Air Conditioning Dealer. Beginning May 1, 2009, Registered Limited Warranty terms are available if the product is registered within 60 days of installation. Registration can be completed either online at americanstandardair.com or by calling 800-554-8005. American Standard Heating & Air Conditioning's Registered Limited Warranty terms on this product include:
5-year limited warranty on internal functional parts
If the product is not registered within 60 days of installation American Standard Heating & Air Conditioning's Base Limited Warranty terms will apply.
An option to purchase transferability of your Registered Limited Warranty is available. Visit our Warranty + Registration page for more information.
Optional Extended Warranties available. Extended Warranties can pay for labor and other costs not covered by manufacturer's limited warranty.
Ask your dealer for full warranty information at time of purchase. Warranties are for residential use only, some exclusions may apply.
Download the Product Brochure