Power Vent Gas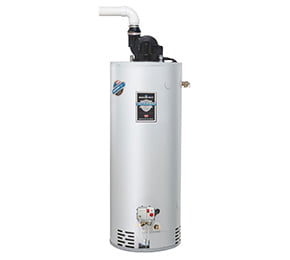 Why we love this product.
Powerful blower motor for efficient venting
Versatile horizontal and vertical venting options
Non-CFC foam insulation for excellent heat retention
Protective anode rod for prolonged tank life
Details
Discover the ultimate combination of performance and convenience with our Power Vent Gas water heater. With the Bradford White ICON System®, you gain precise control and monitoring capabilities, ensuring a customized hot water experience. Say goodbye to cold showers and hello to efficient, reliable hot water with our Power Vent Gas water heater.
Power Vent Gas Features
Bradford White ICON System®: Offers advanced control and monitoring capabilities for personalized hot water settings.
Powerful blower motor: Provides efficient venting for optimal performance.
Horizontal and vertical venting: Allows for versatile installation options to accommodate various setups.
Hydrojet® total performance system: Ensures consistent hot water supply for maximum comfort and convenience.
Vitraglas® tank lining with Microban®: Provides exceptional durability and inhibits the growth of bacteria, ensuring clean water storage.
Non-CFC foam insulation: Minimizes heat loss and maximizes energy efficiency.
Water connections – ¾" NPT: Enables easy hookup to water supply.
¾" NPT side connections (RG2PV50H6N, RG1PV55H6N, and RG2PV75H6N only): Offers additional connection options for seamless integration.
Heat traps: Minimize heat loss and improve overall efficiency.
Protective anode rod (RG1PV55H6N has two): Extends the lifespan of the tank by preventing corrosion.
T&P relief valve: Ensures safety by releasing pressure when necessary.