Gold S9X2 Gas Furnace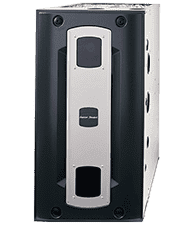 Why we love this product.
ENERGY STAR qualified furnace with high-efficiency 9-speed Constant Torque motor.
2-stage heating
Up to 96% AFUE
Details
A system that works smarter. Quality and reliability with a cutting-edge design.
Gold S9X2 Gas Furnace Highlights
Up to 96% AFUE – fuel efficient design
2 stage gas heat – more comfort, quieter operation, less temperature swing
ECM Constant Torque, high-efficiency motor – electrically efficient
Vortica™ II blower – Exclusive design is efficient and quiet
Stainless steel primary and secondary heat exchangers – reliable / durable
Three-way poise (U, HL, HR) plus dedicated DF – getting the right model is easier
24v IFC – compatible with most thermostats
Matches with single stage or 2 stage AC or HP – more system design flexibility
34" height – easy to fit in tight places or with larger coils
Easy to install and service – dealer friendly design
Certified 1% airtight – meets the most stringent building codes
ENERGY STAR certified – validated to be efficient
Match your gas furnace with a heat pump to enjoy the energy-saving benefits of a hybrid system. In milder temperatures, your heat pump acts as the primary source of heat for your home. When the weather gets too cold, your system activates your furnace to deliver the heat you need.
Gold S9X2 Gas Furnace Specs
Every American Standard Air furnace is packed with high-quality components. Each helps ensure that time after time, your unit will provide total comfort your family can rely on. The S9X2 includes:
Re-designed cabinet platform to fit in tighter spaces
CTM blower motor
Heavy gauge, two-tone powder-painted cabinet
Stainless steel primary and secondary heat exchanger
Insulated cabinet for quiet operation
Warranty
For information on limited warranty terms for your existing product, please refer to your owner's manual or click here for a copy of our warranty booklet. Your local dealer can provide a copy of your owner's manual. Find your local dealer. Beginning May 1, 2009, Registered Limited Warranty terms are available if the product is registered within 60 days of installation. Registration can be completed either online at americanstandardair.com or by calling 800-554-8005. American Standard Heating & Air Conditioning's Registered Limited Warranty terms on this product include:
Lifetime limited warranty on heat exchanger
10 Year limited warranty on internal functional parts
If the product is not registered within 60 days of installation American Standard Heating & Air Conditioning's Base Limited Warranty terms will apply.
An option to purchase transferability of your Registered Limited Warranty is available. Visit our Warranty & Registration page for more information.
Optional Extended Warranties available. Extended Warranties can pay for labor and other costs not covered by manufacturer's limited warranty.
Ask your dealer for full warranty information at time of purchase. Warranties are for residential use only, some exclusions may apply.
Download the Product Brochure