Energy Recovery Ventilator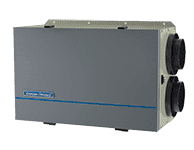 Why we love this product.
Brings fresh, cooled air into your home in summer, warm humidified air in winter.
Fresh indoor air
Air ventilation around the clock or at your control
Details
A system that works smarter. For fresher, healthier air in your home.
Energy Recovery Ventilator Highlights
Saves energy during hot, humid weather by pre-cooling and dehumidifying incoming air
Saves energy during cold, dry weather by recovering heat and moisture from the air that's being expelled
Specially engineered for low maintenance and longer life
Slide-out filter is easily accessible and can be cleaned with an ordinary household vacuum cleaner
Fits your life: easily installed in the attic, garage or basement in virtually any position
Automatically ventilates your air round the clock – or use the manual control if you want additional ventilation
Warranty
For information on limited warranty terms for your existing product, please refer to your owner's manual or click here for a copy of our warranty booklet. Your local dealer can provide a copy of your owner's manual. Find your local dealer. Beginning May 1, 2009, Registered Limited Warranty terms are available if the product is registered within 60 days of installation. Registration can be completed either online at americanstandardair.com or by calling 800-554-8005. American Standard Heating & Air Conditioning's Registered Limited Warranty terms on this product include:
10 Year limited warranty on internal functional parts
If the product is not registered within 60 days of installation American Standard Heating & Air Conditioning's Base Limited Warranty terms will apply.
An option to purchase transferability of your Registered Limited Warranty is available. Visit our Warranty + Registration page for more information.
Optional Extended Warranties available. Extended Warranties can pay for labor and other costs not covered by manufacturer's limited warranty.
Ask your dealer for full warranty information at time of purchase. Warranties are for residential use only, some exclusions may apply.
Download the Product Brochure