All Weather™ Top Accessory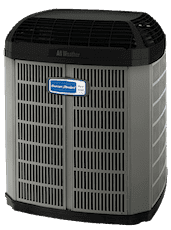 Why we love this product.
Protect your Air Conditioner from the elements.
Available for all Platinum, Gold and Silver models.
Details
A system that works smarter. The All Weather™ Top Accessory Kit will protect your American Standard air conditioner from the outside elements. This newly designed top easily snaps onto the top of your air conditioner and will reduce the accumulation of rain snow, leaves and debris from entering you unit, helping you keep your investment in the best condition possible.
All Weather™ Top Accessory Highlights
Attractive design with low profile styling and color matched to the DuraTuff™ base pan.
The All Weather™ Top helps reduce snow, rain, leaves, and debris from entering your air conditioner.
Concave top and corner effectively channels rain away from the louvers.
UV inhibitors resist fading and chalking.
Four easy steps to install. Contact your American Standard Heating & Air Conditioning Dealer today for more information.